One of the most popular and common providers of Christmas decor, Crate and Barrel fanatics know that one of the best ways to snatch up items that didn't sell during the holiday is to shop the Crate & Barrel after-Christmas sale. But how do you find out what's available when the home page of their website has been completely reset for spring?
The trick to gain access to special offers is to know how the company organizes their content following each season. What they do is to add a forward slash, and then the name of the season. That way they create a landing page where they can tell the story of that season, present optimized content AND offer seconds at floor-smashing prices. Just take a look at https://www.crateandbarrel.com/christmas/ as an example.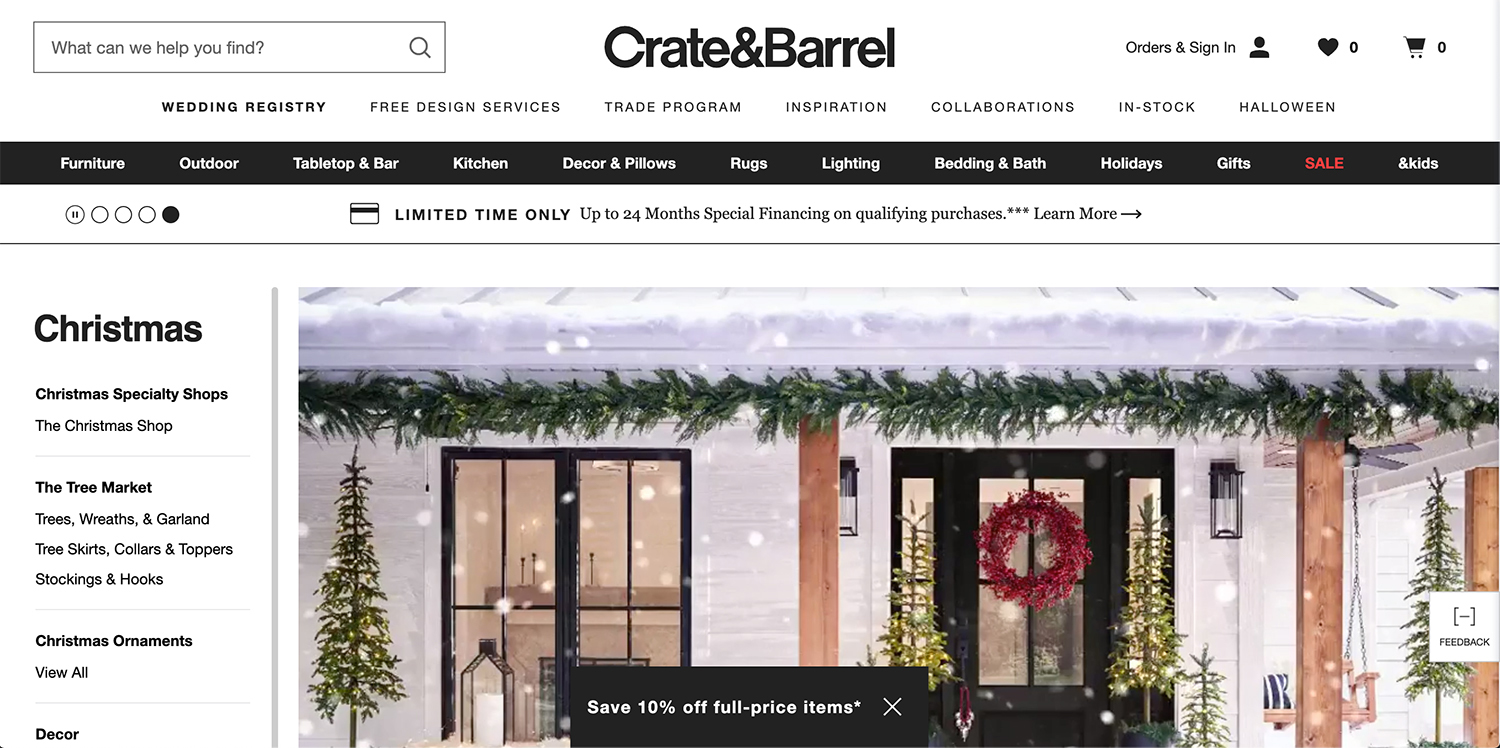 Looking for other holiday pages that you can't find in the main navigation? Whatever holiday you are looking for, you can find great deals outside of the holiday season, if that's what you're into. Just check out the holiday page and follow the links to shop by category https://www.crateandbarrel.com/holiday/
The page has content that makes the site accessible by using a screen reader.
After Christmas Sale 2022 - Here's What to Expect - Black Friday 2022
Is there anything coming early to the Black Friday Holiday Sale at Crate & Barrel? The brand provides a Black Friday landing page, but they only provide links to their outlet shop and an opportunity to sign up for announcements.
The real way to get Crate & Barrel ornaments and holiday decor from their seconds and closeout store is to visit the holiday page linked above. When you get there, this is what you'll find.
Christmas Trees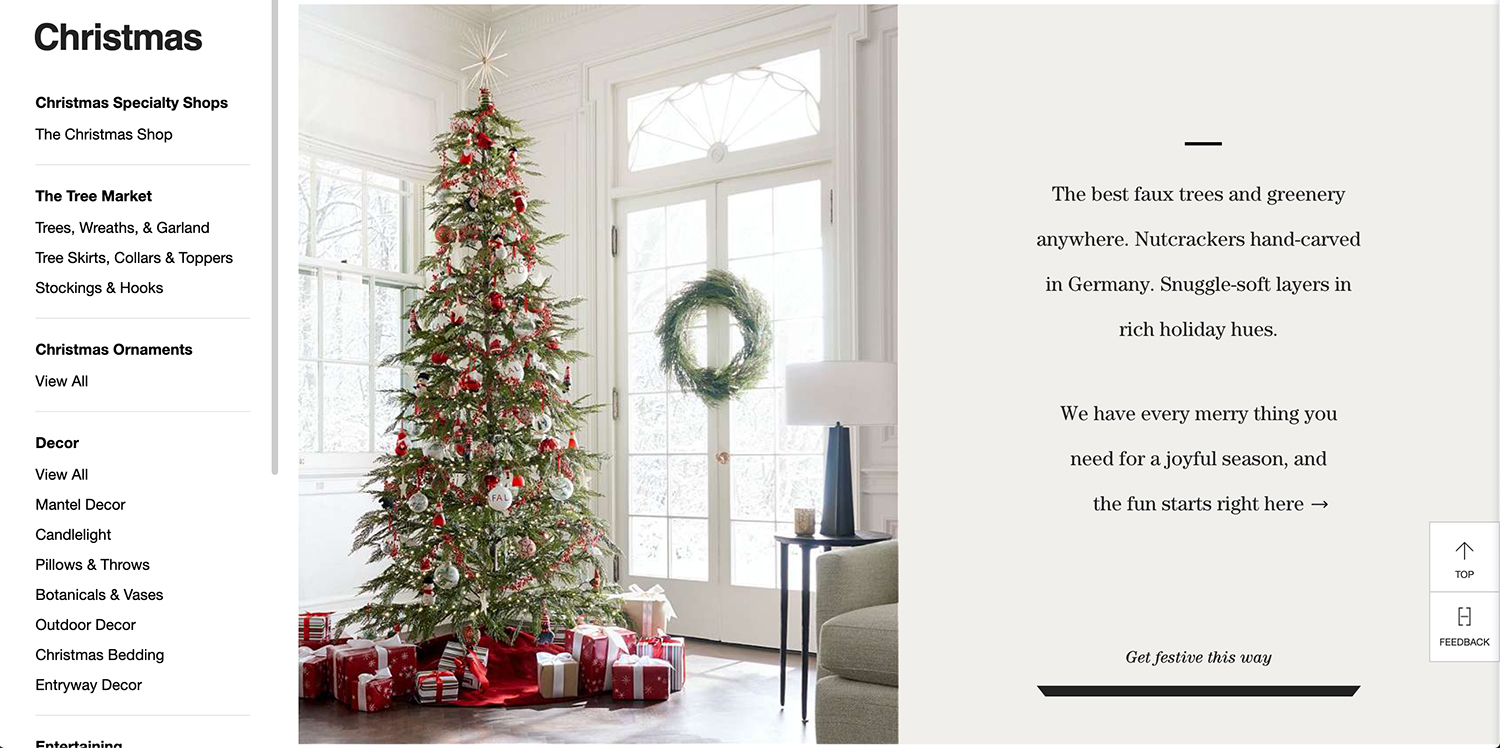 While the company does offer trees around the holiday, sadly, only small, desktop decorative items are not available year-round. They do, however, provide a good guide on the different types of greenery, which can be helpful in making a selection.
Where can you get a truly modern holiday tree during the off-season? Try the House of Pixen silver tinsel Christmas tree.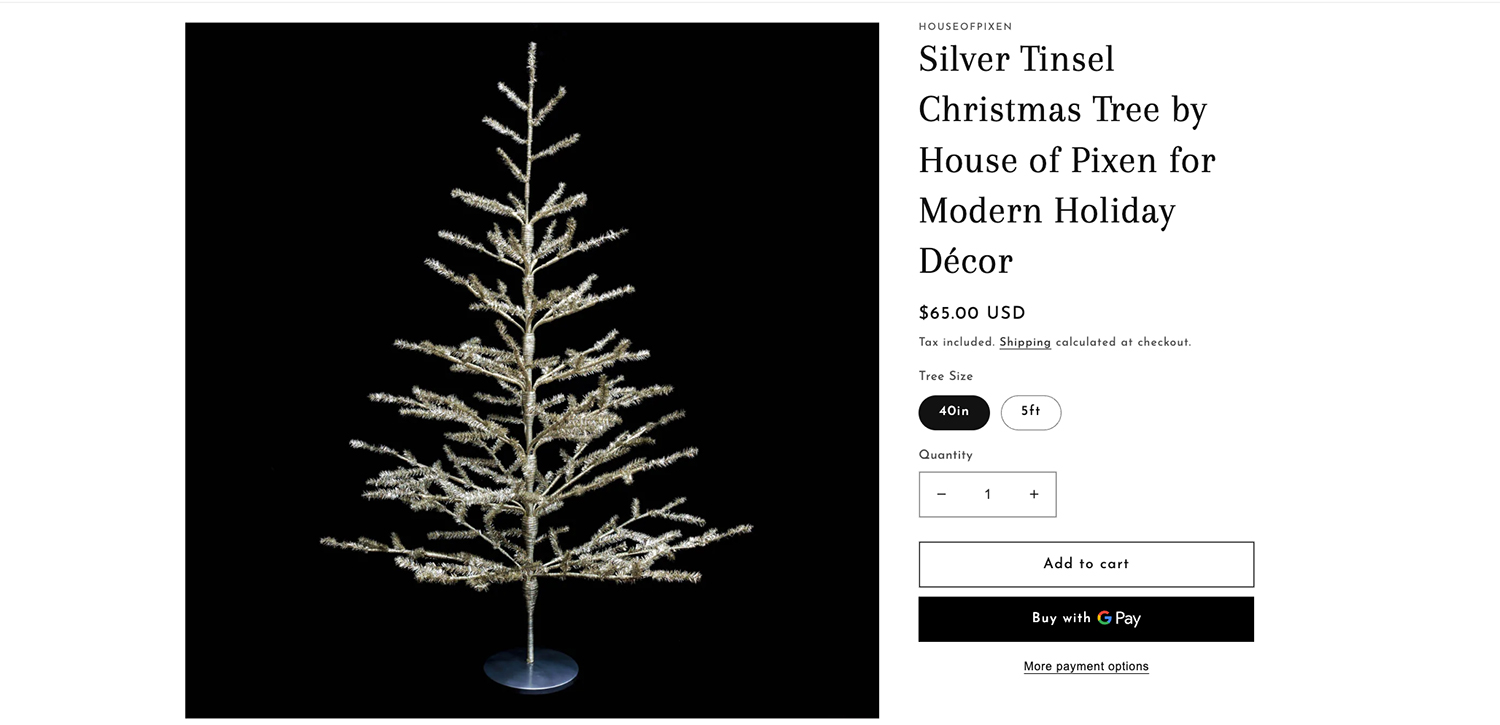 Crate and Barrel Christmas Ornaments
Make your holidays magical by decorating every corner. Some of the items that didn't perform as well as anticipated can still be purchased with your Crate and Barrel credit card or other payment option of your choice. Choose from alphabet letters in gold and silver glitter, patterned ornaments, star Christmas tree topers and more. Just don't spell out, "bah humbug" with your letters if you aren't satisfied with the quality. Instead, shop some of the House of Pixen ornaments available right here on our shop.

You can shop by category or view the entire catalog here. We've made a commitment to never hide products outside of the holiday season. And we will never manipulate you with messaging that a sale "ends today double rewards."
How does House of Pixen Decor Compare to Crate & Barrel?
Something we don't like about the C&B site is how much they use messaging that says "ends today double rewards." In reality, the message pops up every time a visitor arrives on the online shop. That makes it unclear if your pricing will really change - they just want to have you guessing if the sale really ends today, double rewards are lost, and you lose the opportunity on a great deal.
Both C&B and House of Pixen ship to united states, and House of Pixen also can ship worldwide.
Unfortunately, C&B treats the holidays as a commodity. They focus on mass produced items following the "fast fashion" model, so most items are easy come, easy go.
The House of Pixen focuses on high design, quality materials, and a hand-crafted finish to create items that can be passed down for generations.
Let's look at some trends about the holiday that might help you choose decor for your home or event:
What are the most collectable ornaments?
Dresden paper ornaments which typically have an animal shape such as peacocks, deer, birds flying, are among the best Christmas ornaments. These very old German ornaments are hard to buy at very good prices and often sell for thousands of dollars.
The House of Pixen has incorporated paper as an important material in our high-craft paper ornaments. Start a new tradition by collecting these ornaments today.
What is the most popular tree topper?
Angels and stars are the most popular tree toppers as they feature prominently in the story of Bethlehem and the birth of baby Jesus.
We recommend the star as an ideal topper as we have yet to find an angel topper that does justice to the story.
How big should the topper on the Christmas tree be?
The full height, including stand, tree and topper should allow 6-12 inches of clearance from the ceiling.
Do Christmas trees need a tree topper?
There's no Christmas tree unless it comes with the best ornaments. So, before putting an exquisite gift under the Christmas trees, consider these best decorations.
Last Year's After Christmas Advertising
C&B is quick to message customers within a few days after the holiday. You will likely see a message like, "Updated on Sunday, December 26, 2021: The big winter clearing event has finally started! Start now and shop at your nearest C&B store. Remember, they are always available until supplies are gone." They might even list some products with the notice that the sale "ends today double rewards."
My online purchase will arrive how quickly?
We can say that the order tracking schedule delivery features on the website were quite accurate, even if the product doesn't have the same features that premium designed and crafted materials bring to fine holiday decor.
Should you shop the 2022 C&B holiday shop?
We do recommend you do visit their offerings to see what the trends are. The company does offer a lot of categories related to the holiday, and they provide items like wedding registry, a shopping app, and product financing. We do recommend that buyers look closely at the quality to determine if the products are decorations that will last a season or two, or decor that can last for generations.