An Interview with Sam Hull
For those un-initiated into the world of Christmas and holiday design, July through November is an energetic but focused period of time when everything has to come together in perfect synchronicity to ensure that production is on time and that things are done correctly to prepare for the season ahead. Nevertheless, our marketing editor was able to pull Sam for an interview.

Sam Hull is the founder and lead designer behind the vision, product lines, and brand that is the House of Pixen.

Holiday design is such a unique category in the creative industries and one that's not easy to break into. How did you get your start?

I had been working in design and theater, and part of my responsibility was designing and staging the lobby to set the tone and help ticket holders transition from the street into the theater. Meeting sponsors and talking about my work, I was getting referrals to individuals to design and stage their homes. Some of that work was historical in nature, but of course, a lot of it was in modern and contemporary homes. My interior design work was not limited to the holidays, but in many instances, it did spill over, and I found myself looking for the right décor to match people, their homes, and their lifestyles, especially for those with historic registered properties.

If someone said they wanted to follow in your footsteps what would prepare them for that?

I have to think about that - you know, I have always been creative. I won art competitions starting in 5th grade and I never stopped making things since. That might be it - be creative and don't stop.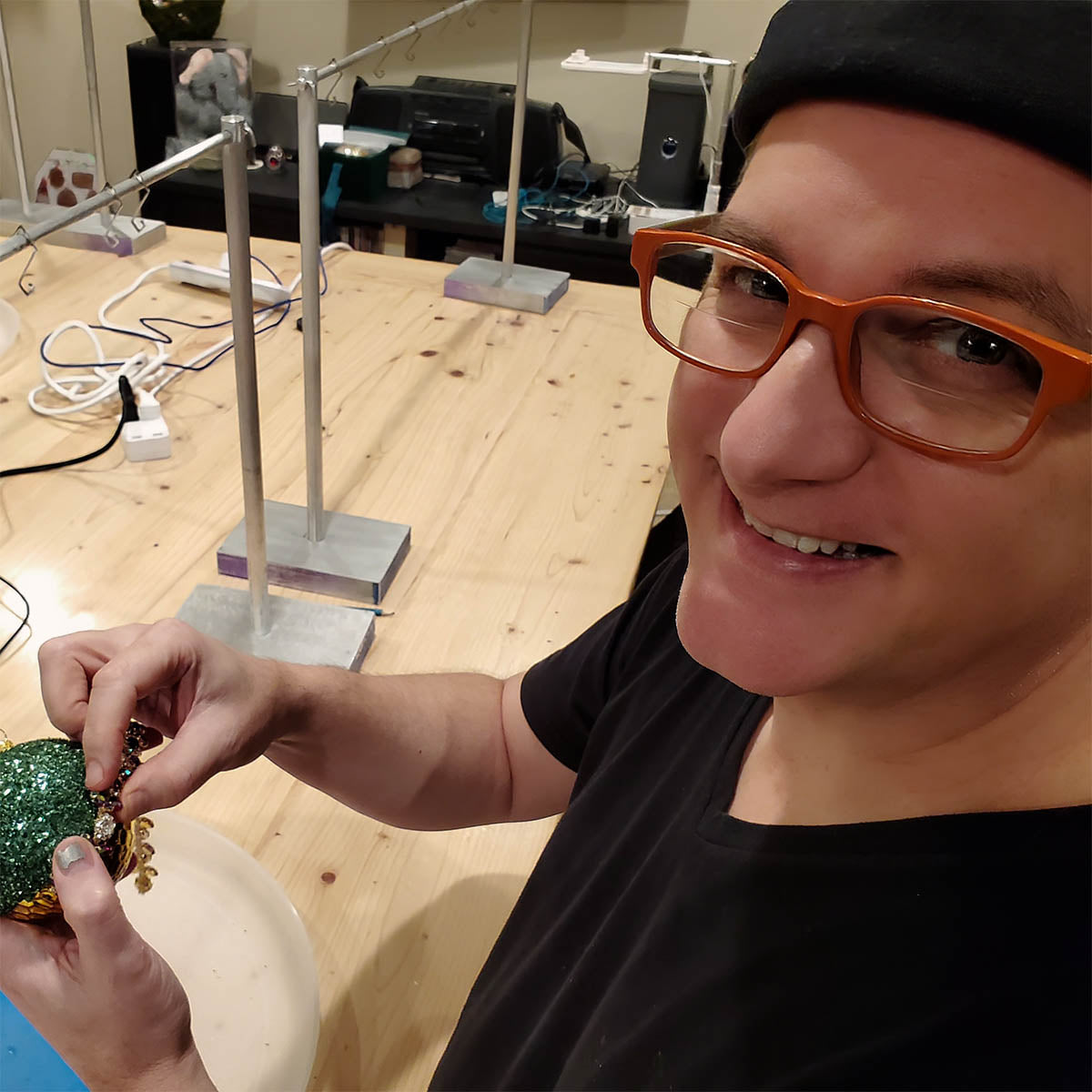 I used my artistic skills when getting a degree in advertising. My first job out of that experience was creating the lobby displays for the theatre companies I mentioned before.  I also studied with a master-stained glass maker for many years learning that skill and incorporating it into my primary business of Design. That knowledge still carries through the work I do with mouth-blown glass artists, which itself is a historic Christmas material.
You've mentioned historical design and historical materials. How did historically researched designs and historical materials play into the ornaments you design today?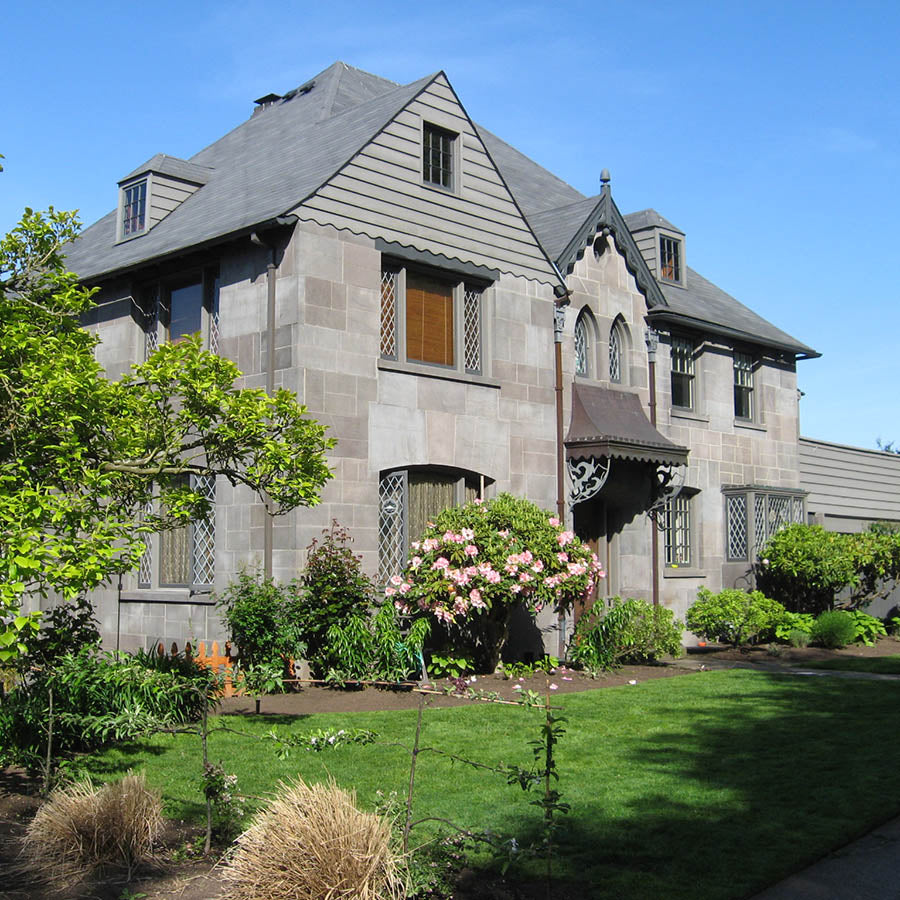 In terms of Historical Designs, I became the sole holiday designer for the Virgil and Beulah Crum House for over 10 years. The home is built from gray basalt and the walls are a half -foot thick. It has a castle-like quality, unlike anything else you will see in Portland.
A family owned the home, but due to its historic nature, the public could tour the grounds. I needed to consider the personal preferences of the owners, and also consider how to represent the historical nature of the architecture and the overall design of the property.
The family requested handmade items from stockings to ornaments that varied every year, thus the House of Pixen was born. (Laughter)

I basically shifted from sourcing historically referencing materials and ornaments to making or designing them myself. Those references and materials still resonate in my work today.
What about some of your contemporary Christmas design experiences that can maybe parallel your historical work?

Well, because I was designing holiday decor in the public eye, I was recruited by the Festival of Trees hosted by the Providence medical network in Portland, Oregon as a fundraiser for kids with cancer.
The event manager sought me out to join the design team for the annual fundraiser because of my unique mix of skills. We designed everything - modern, kids-themed displays, historical, and things that extended into the fantastical. By the end of my eight years there I was the Creative Director, head designer, and design consultant to 28 full-sized "real" trees - I mean the cut-down in-the-forest kind of real - decorated for auction each year. Because of my theater design background, I also designed the centerpiece of the Annual event.  Each of those seven years our event raised more than $1.5 million annually in support of the Providence system, including kids with cancer and those in need of life-saving treatments. 
How did that experience shape your uniquely crafted holiday designs?

In that position, I saw the need for higher quality, less processed options for both home and business holiday décor.  For instance, much of the fundraising was for the children's cancer center, yet 95% of the items on the trees were full of chemicals that sick children should not be exposed to in any manner. I decided to leave that post and start a company that had highly skilled design as a base, with a workflow that included collaborations with artisans from various backgrounds, a financial plan that allowed both profit sharing and luxe goods at a price point that served both customers and artists alike, with materials that were simple and as "un-toxic" as possible.


What inspires your use of materials to get the toxins out of the design? 

Having designed a variety of themes and styles for the Crum House and the Festival of Trees, I knew I liked materials that were as close to natural as possible, but that artisan hands had manipulated into ideas yet unseen. The House of Pixen uses glass, wood, metal, paper, fabric, wool, and crystal in various ways to produce the items in our lines. 

Glass can be blown and shaped to become the base of our ornaments, but it can also be crushed and used as glitter on everything as well. Our wool tree skirts and stockings are AZO-free and Swiss-dyed with the remnants used to make small ornaments for the tree, examples being the Snowball Ornament and the Red Wool Bobbin Ornaments.
The Woodland Bell ornament is made of the same base as the Woodland Stocking and Tree skirt as well, so we are able to maximize our use of materials and reduce waste.  We mix crystal and metal in the caps of our Kyle, Kalista, Kareen, and Kriston ornaments giving them a layered look and textured feel.  Our quilled paper ornaments come in options from paper-only designs to those accented with German glass glitter and even pearl enhanced.
Hand quilled paper ornaments
For me, the goal is to be as flexible as possible and as natural as I can when designing and making items by hand. There are some points where modern textiles are needed to complete the vision of course, but we limit the types of plastic, resin, and glue to as few as possible.  Many folks do not realize for instance that the Woodland Tree Skirt has over 1800+ hand-tied French Knots on each one, or that the rhinestone chain on the Grand Duchess Tree Skirt is hand sewn, not glued.  Likewise, all the mini-wool spheres that line the stockings and tree skirts are also hand-rolled and sewn on vs gluing.

Thank you for taking the time to talk more about the brand. I think we'll conclude the interview by showcasing some of the amazing designs you have available on the site right now. It's important for
people to know that many of these designs are available for a limited time.

Thank you, that's right. We produce designs during a limited part of the year. Because they are crafted, we take things in and out of the overall product mix. We generally only make between 20-100 of any design and then move on, so we are a collector's dream or a discerning gift-giver's ideal brand as our items are hard to come by. In many instances, like Easter and Valentine's Day, we produce items that are one-of-a-kind with no duplicates at all. I appreciate you bringing me out of the studio for a little bit to talk about the work. It's good to represent the context of these designs.